It's the most wonderful time of the year if you're organised. Christmas can quickly go from tinsel to tears if you don't have a game plan. No one wants to spend this time of year stressing! So, to save you from sobbing under the tree we've come up with some tips to maintain sanity and reduce Christmas stress. 
Divide and Conquer
If you're not hosting the big family lunch, then lucky you! All you need to do is bring a dish if the host so wishes, be a good guest and gift-giver! If, however, it's your turn to host then you're going to need some help.
Christmas is about coming together as a family to celebrate, so you don't need to do this alone! Enlist the kids to help make the Christmas pudding and set the table. Get your partner to wrap the presents. And ask the dog to finally lift his own weight and lick the house clean.
All this aside, the most important thing: every guest brings a dish. This is now your rule. This rule will prevent you from staying up until 3 am baking Christmas cookies because that's not going to help your stress levels. 
Plan with Playt
Nobody wants to come to a lunch with 4 potato salads and no dessert (although we do love a good potato salad). To avoid potato overload, we suggest having a list of dishes you want for the big lunch. Let everyone choose their preference according to their culinary prowess.
You can find the recipes online with Playt or let them fend for themselves. If you have something very specific in mind, we'd recommend supplying a recipe and an easy way to shop it! (Have we mentioned that Playt makes shopping easy?)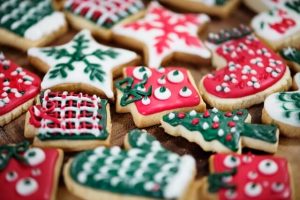 Save Time and Shop Online
If you've already done the kind thing and suggested Playt to your family and friends, why not use it as well! We think we're pretty useful to reduce Christmas stress – here's how it works:
Step 1
You can browse recipes on our Foodspiration page, or use the search function for something specific. They're all there, waiting for you to pick them!
Step 2
Once you've found a recipe that tickles your fancy you can add this recipe to your cart! What does that mean? All the ingredients you need for that recipe have been put into your shopping cart – how easy is that! If you want to choose a different brand, add or remove any ingredient you can do all that too.
Step 3
Need anything else from the supermarket? Add that to your cart now – you can order anything you'd normally buy there! Now it's time to check out. Choose between click and collect or home delivery and you're done. Wow! That was easy. Feeling less stressed?
Want to learn more about our unique grocery shopping platform? Click here. 
Now that you understand how clever and useful Playt is, let's remember why we don't want to brave the supermarkets at Christmas time (or ever again).
Christmas shopping can be terrifying – that's all there is to it. Trolleys are everywhere, children are screaming, and 'All I Want for Christmas is You' by Mariah Carey plays on repeat. Luckily you can avoid the exhaustion of grocery shopping in the days leading up to Christmas by ordering groceries online. No more lines, no more car park road rage, no fights over the last prawns at the seafood counter. 
Instead, leisurely choose your recipes to the soothing tunes of Michael Bublé in the comfort of your own home! That's right, all the ingredients you need to make your famous Christmas pudding, plus any other tidbits you might need (wine), will be delivered to your door without the emotional trauma of navigating supermarket aisles.  
After all, you need to conserve your energy for devouring a Christmas Day Feast, dancing around the Christmas tree and watching Love Actually nine times in one week.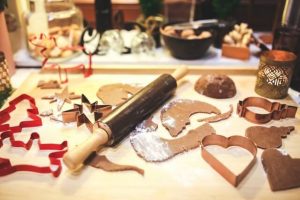 Just Have Fun
Groundbreaking advice, right? Remember that Christmas is meant to be a fun time of year for everyone, not just the kids who wake up at 5 am to rip open their presents. Remember that lunch or dinner doesn't have to be perfect! Unless you're planning on launching your food blogger career, the presentation doesn't have to be impeccable. If it tastes good and everyone's enjoying themselves, that's all that matters! 
Bonus tip: get a free bottle of wine with your first Playt order – now there's one way to reduce Christmas stress! 
Merry Christmas everyone, if you need us we'll be drinking eggnog and watching Christmas movies on repeat.