We already know breakfast is crucial to get you through the day. Now the question is, "how do I get my kids into a healthy breakfast routine?" Well, we're glad you asked, because our favourite nutritionist, Jan Marie, is here to give us some tips.
Breakfast Is Important
In case you missed our last blog post (you can read it here) we'll give you a recap. Important studies carried out by clever people have shown that children who eat a balanced breakfast have better concentration and learning outcomes. They've also shown improved social interactions and increased energy throughout the day, which is what we want for the little tackers, isn't it? A healthy breakfast provides the platform for children to feel well in their mind and body, great work breakfast!
We're not here to judge; in the morning rush, we sometimes push a healthy breakfast aside for other things (punctuality anyone?) opting for a nutrient lacking choice instead. This doesn't have to be the case because a balanced breakfast can be both healthy and quick. No excuses!
1. Make it Fun
Getting kids to eat in a timely manner is a battle of its own, so make breakfast a little bit more fun by making a funny face with food. Sure we're not meant to play with our food, but if the little ones are more inclined to eat then we say, go for it! Make a smiley face in porridge out of fruit, cut out the toast in funky shapes, use eggs as googly eyes – your imagination is the limit!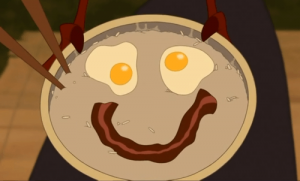 2. Eat Together
While you're at it, eat breakfast with them. Monkey see monkey do, so be a good role model and sit down to a balanced breakfast with the family. Slowing down just a bit in the morning to enjoy a hearty breakfast will set you up for the day, and you're enjoying quality time with the family at the same time!
3. Cook Together
Now, this isn't always a viable option,  but cooking with your kids (No! Don't cook them!) is a great way to encourage your children to eat a healthy breakfast. How can they resist a meal they helped make themselves? This is a great option for a weekend when you have more time on your hands.
4. Don't Press Snooze
Waking up early is not fun, but neither is spending the entire morning starved, waiting for lunchtime. Set the alarm 15 minutes earlier (or just don't press snooze) to allow more time for breakfast. Sure you're missing out on 15 minutes of sleep, but we like to think the energy you'll have from eating breakfast will balance it out.
5. Meal Prep
If waking up earlier is absolutely not an option, prepare breakfast the night before along with the next day's clothes, lunch, and backpack. The morning stress will be halved if all those pesky chores are already done and dusted. Chia pudding and overnight oats are just two easy breakfast ideas to prepare the night before. Check out our blog post on meal prepping here.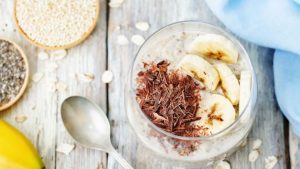 6. Ban Electronics
No one wants to be the bad guy but say no to TV, video games, and computers in the morning. It is a well-known fact (supported by all parents in the world) that when children are watching a screen, they forget how to get ready for school. You don't need these distractions in the morning, so turn off the TV and put a bowl of porridge in their hands instead.
One More Handy Hint
Clearly, we're already short on time, so we'll take out another chore for you. Shopping with Playt means no more visits to the grocery store after work, no more wayward trolleys, and no dreaded chocolate aisle to take your kids down. We'll do it for you. Shop recipes online, get your ingredients delivered. It's that easy.
Quick and Healthy Breakfast Recipes